Articles & photos
7-2-2019 X1 putting here back to getter #2
5-10-2019 - What did we do today 7-2-2019 Buell X1 putting here back to getter part 2
on with the X1 mesuring and mounting the oil feed and return — at Twin Motorcycles Buell Support forever.
shock mounted
checking the oil hoses are out the way of the shock
problem point tube frame , low voltage to ecm.. can be cause by the feed wire and connection corroded on the starter terminal check and put some di-electric grease on
and the thick battery cable on
cleaning up the loom a little
modified the licenceplate bracket , so the light sits flush..
looks allot better like this
now filing the holes
used XB cylinder.. OS bored and honed and coated black..
and new thunderstorm pistons
2e compression ring
note the edge , checking the gap on the rings .. very important
top compression ring..
did not need to adjust the gap.. final clean and a oil whipe in the cylinders. and push the piston down the barrel
assembly on the rod end and pushing the piston pin on its place
hold down bolt on the cylinder studs
and front cylinder on
rotating the crank a few times.. feels good
unpacking the cylinder heads... nice
new guides
head on the bike
oil the head bolt threads and flats. to get the correct tension
and tighening the head bolts follow the procudure recommanded by the gasket suplier.. or follow the work shop manual , if no information is given
pushrod o-rings in the head
i hold the flange down on the pin , and tighten the bolt, so far never had a leak due to bad mounted gaskets
oil the pushrod tube tips.. not to damage the upper o-rings
pushrods.. the long one is exhaust .. if you cannot see the markings
rocker box on , and located al the bolts
and evenly tighten al the bolts
new breather one way valve rubber in
and top covers on.. if you can not get to the screw under the frame.. there is a tool for this
sorry mr. Buell , but i needed to
;-)
front mounting bolts.. neverseas on the shanks.. and red loctite on the threads
old style ( 1/2 ) bolt and. the cut out needs to go to the front / engine moving to the steering lock
and she is hanging on here own
front top tie rod mounted
and front lower tie rod mounted
and top center tie rod and bracket mounted
and thighten to the frame
coil back on
crank spacer in
and primairy drive on
red loctite on the threads — at Twin Motorcycles Buell Support forever.
we need to replace the clutch plates .. so clutch tool on
and taking out the old plates.. the spring plate was still in..these can fail very bad.. popping out all the rivets and these get stuck inbetween the clutch
extra plate kit.. do not reuse the steel sping plate
pre wet the plates , and let these soak a little
check the pressure plate. under the spring.. if this is clean, well known spot where debris will collect
and pressure plate / spring back on.. care ful on the c-clip seat ring .. this is fragile
dowls back in , for the cover
with the cover still of .. best way to replace the shifter seal
cover on
new clutch cable on
mount the clutch cable straight.. so the outer cable rubber will not twist on the fitting.. as this will cause a sweating cable
after market clutch pack.. works better with a ATF oil type
adjusting the mechanism
and cover on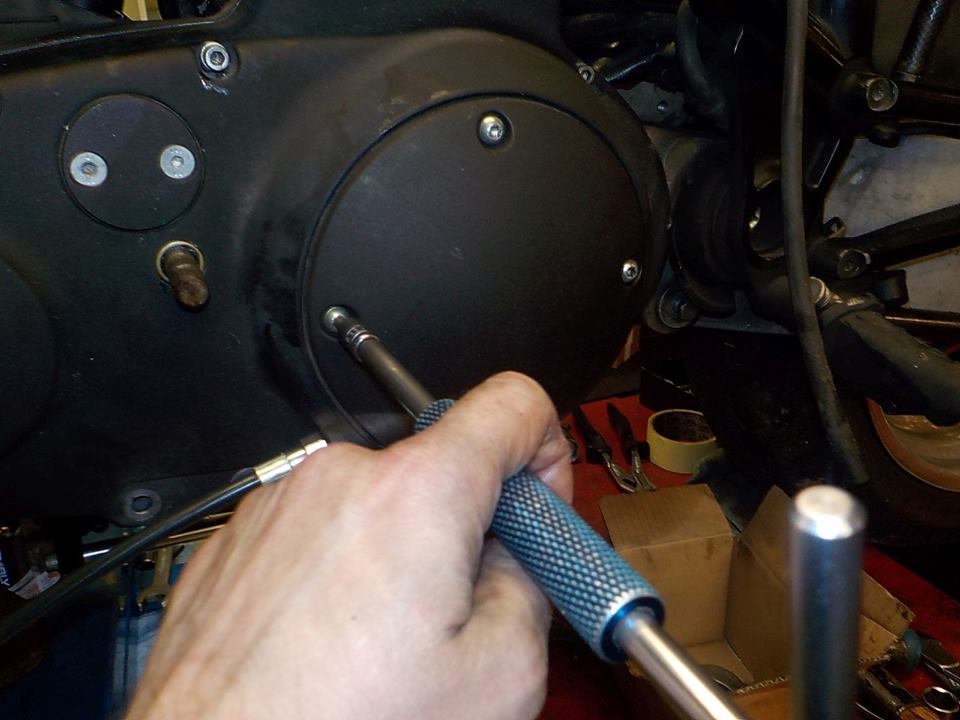 prootecting for the long run
old front pulley... meeeehhh this is a belt eater .. worn out and sharp
new 27 T pulley , will give some more kick accelerating