Articles & photos
6-2-2019 X1 assembly, Buell XB12 from Swiss
2-10-2019 - What did we do today 6-2-2019 Buell X1 putting stuf together, Buell XB12 from Switserland trouble shooting
whoop whoop... finaly , going to make this a looker — at Twin Motorcycles Buell Support forever.
rear lifted in the hoist, tank and cover of — at Twin Motorcycles Buell Support forever.
i find it much easier to put the engine in when you can handle it with out to much trouble.. with heads and cylinders on..your banging the fins and frame
egine to swing arm adaptor .. using the D shaped washers
some corrosion protection on the bolts
and thightening the bolts
temp front bolts loose
and front shock mount and exhaust bracket mounted
lifters in pre lubed the holes
and lube the sliding surfaces fot the first critical moments
holes to the front ( douse not matter much ) and flats lined up for the pins
new model pins , little locite on
brilium bronze oil pump gear was al redy mounted , no to very little wear as expected , now with the crank alined and straigh.. should be even better
oil pump gear on , check the key it is sharp.. en flat in the reces
pinion gear . check the cut out.. needs to be sharp and nice..
locking plate on
red loctite on the nut
and TQ it down
long time ago we already put other cams in ..
still follow the 1 to 4 numers .. and aline with the dots and stipes
prime the big end bearing, with some squirts of oil
oil pump in
new seal in the cover
and cover mounted
XB in from Swiss.. running problems
worn out the intake air sensor wires where damaged.and shorted .. and caused a ecm problem ? as temperature is reading 125 deg. C .. taking of the sensor douse not matter...
further with the X1 pulling in the end gear
and with big-ass clip pliers the lock ring on
tapping the seal in
new neutral switch
squire ring in to seal the spacer.. and give the bearings a few squirts of oil
cleaning the spacer with some scotch brite and push it on
neutral switch wire
speed sensor in
gear box in
tighten the gearbox bolt with a drop of loctite
new model detent plate .. edge like , the old model is more rounded
the shifter drum pins are nice and evenly , so the plate runs perfect
detent arm spring on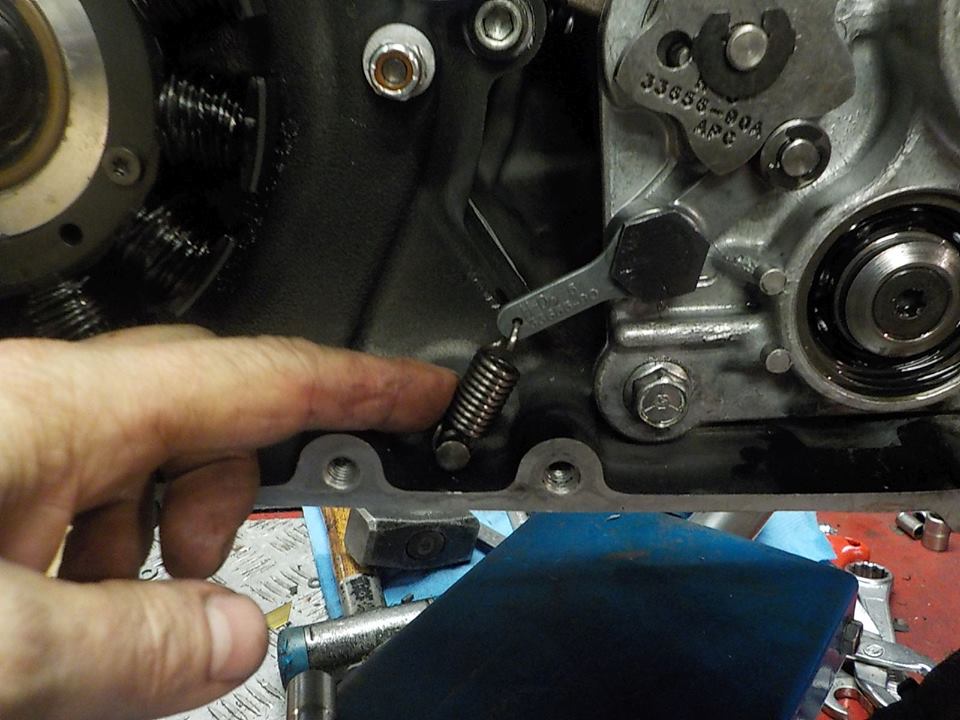 and shifter arm spring in
adjusting the mechanisme .. 3 mm in the hole 3e gear and thighten the nuts
oil filter adaptor in. put some loctite on
new oil pressure switch in
and oil pressure line from the pump , mounting with some hydro loctite
used 2 spanners to tighten the fitting
routing the regulator wires and oil pressure switch wire
ground wire mounted to the regulator
and regulator mounted
starter motor in
removing the rear light to loosen the undertray .. ligt can not be mounted flush.. eeeh... will fix this
loosen the undertray to get to the oil lines
undertray of
and removing the return oil line
and cutting of the feed line
we going to replace these..
new hoses.. and new clamps
i need to mount the resistors good.. they have been ratteling very much.. even trough the under tray
next. issue. ground wire eye led broken of
next. issue. ground wire eye led broken of