Articles & photos
20-6-2018. XB12X service. 1125R with noice
1-2-2019 - 20-6-2018. Buell XB12X Uly in need of some tlc. Buell 1125R with a noise, very Nice Buell X1 for oil change, check up and oil pump gear change
uly from Belgium.. in for some big repairs
she has some experiance
but she is starting to blow a little trough the piston rings ( worn piston rings )
she has some troubles with headlight bulbs.. mnn starting Vr seams good
light popped out again
eeehhh ok .. that is way to much.. the Voltage regulator is giving to much
draining the fuilds .. little to no debris on the engine oil... good
but some missing bolts ?
and a half broken chin spoiler
the W-brace needs to be coated, as it looks bad and corroded , so oil cooler bolts loose
clutch cable is starting to sweat .
regulator wires loose
eehh i will replace this bolt to
rattel test on the shift lever.. it did rattle bolt not loose. but worn thin
clutch cable loose // i will replace this one
very nice 1125R brought in for diagnose off engine noise ( see clip ) need to talk to the customer about it —
very clean and nice X1... she looks like new
taking of the chin spoiler to drain the oil
pully cover loose
checking the battery.. CCA is low for this big battery..
draining oil the slow way
exhaust of to drain the gearbox oil
take the spark plugs out while the bike is draining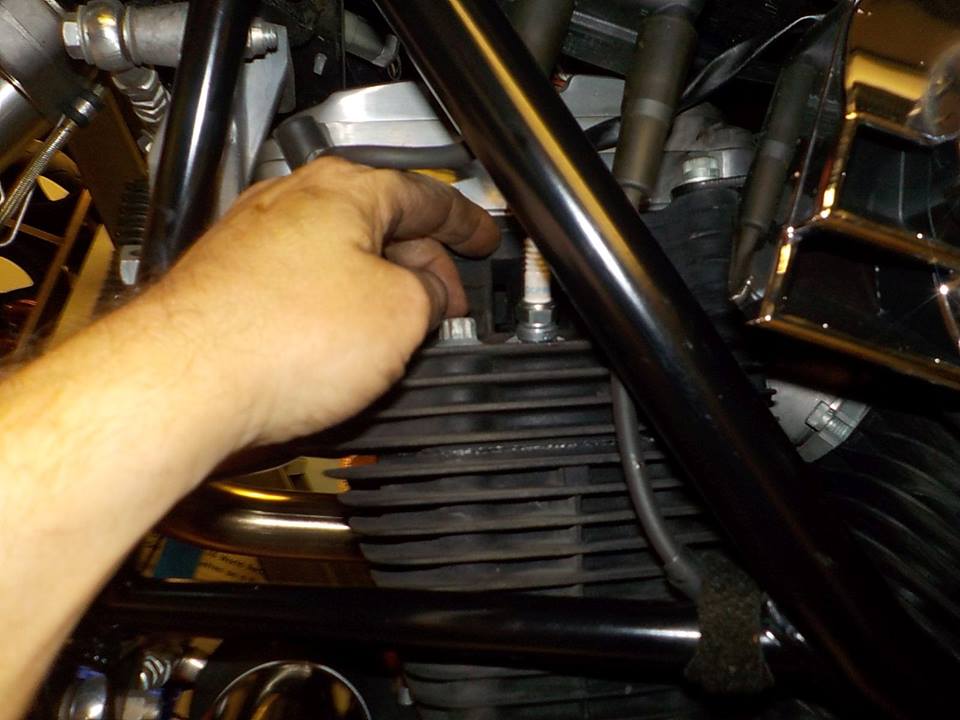 clutch cover seal ring.. these get hard after some time .. some times better to put a new one in —
belt tensioners loose
inspection cover loose to check the primairy chain
strapping the bike in the hoist.. as we need to take the shock of
weight of the bike and loosening the 2 bolts
and move teh shock to the side
we need to inspect the oil pump gear
take 2 spanners to loosen the pressure oil line
and unscrew the 2 bolts
to take the oil pump out
now with a mirror and light you can inspect the oil pump gear.. have the reas wheel lifted, bike in 5e gear so you can bump the engine around.. as you need to checl the gear on all places , this one has wear marks.. advice to change, but need to call the customer
first replace the rear tyre
fresh new tyres..
oil pump can go back in, with new gasket
talked to the customer.. replace the oil pump gear... ok.. so header of
as we need to take of the gear cover
removing the fuel tank with covers
to get to the rocker boxes.. as we need to take the valve spring pressure of
lower box screws out
mnn very good.. front one was still the 2 piece paper gasket.. and this would have been starting to leak anytime
timing cover of
and steel plate loose
marking the ignition pickup , for easy mounting
and timing cam can be taken out
cover screws loose
and cover of
lock tool inplace to remove the nut
and pulling of the oil pump gear
yep glad i ded it.. noticeble wear visible , would not have failed the next 1000 km.. but not a good feeling
new oil pump gear in.. and assembly lube on
check the pinion gear the edge for the lock key are good and nice
red loctite for the nut
30 nm + 19 deg
cams back in follow the dots
ome assembly lube on the bushings
and cover on
trigger wheel in and sensor on
header can be mounted
and rocker box back on
new umbrella plugs mounted ( head / case breather system
whipe the dirty fingerprints.. you do automaticly on a very clean bike
the difficult screw in the front
and top cover back on
fuel cel hose connection
and shock mounting
pully cover
wheel to tq and belt tightened
new spark plugs in
removing the oil filter.. to help allot off spill put the oil filter box back on.. to guide the oil comming out
new filter on
motor spoiler.. put some loctite on these
anty rattle o-rings on the spacer bushings
testing if it douse not rattle anymore
nice bike
testing.. for oil and pump gear.. running smooth
bike turned around for front end check
nut loose .. sheees looks like new
front fender loose
loosen the disk bolts
that way you can take off the caliper with pads in
front wheel out
and with fresh tyre back in