Articles & photos
23-3-2018 XB12SS Finish belt, levers, XB9R ready
5-7-2018 - What did we do today: 23-3-2018 Buell XB12SS Finish belt and levers, Buell XB9R ready from running in on the dyno, last things , Buell X1 restauration
nice bits came in or this SS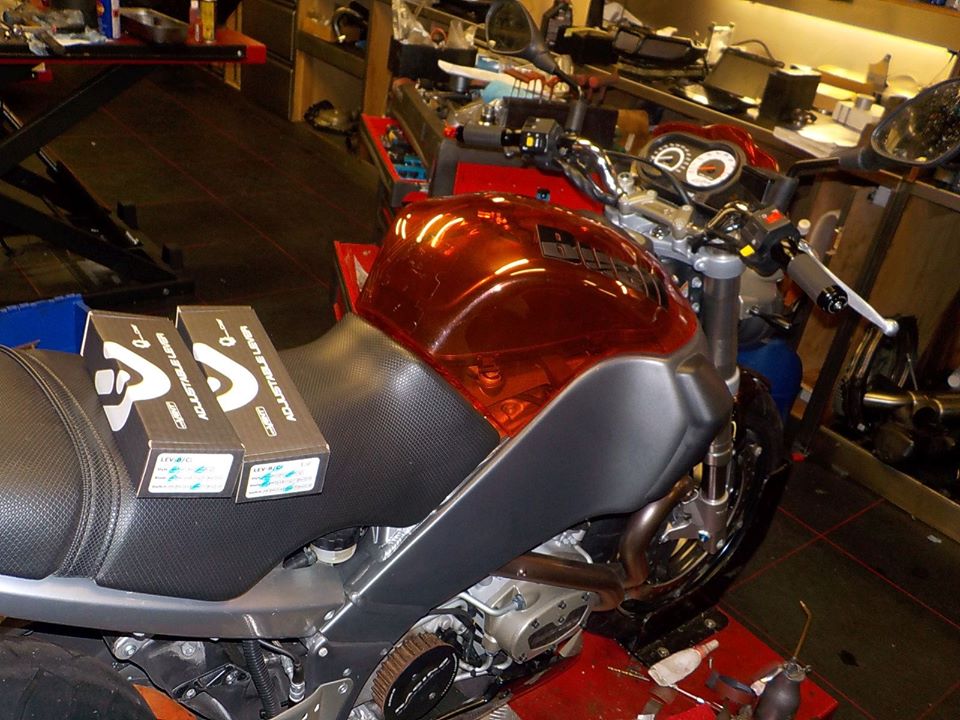 lever change to Oberon ones
Black and orange combination
:-)
nice
clutch the same.. no need to loosen the clutch cable adjuster
hook it in , and turn the lever in.. take care for the clutch switch
needed to do the belt on this bike
rear axle turned about 15 turns out so the axle is on the thin part
foot peg plate of
and carefully turn the belt on the pulleys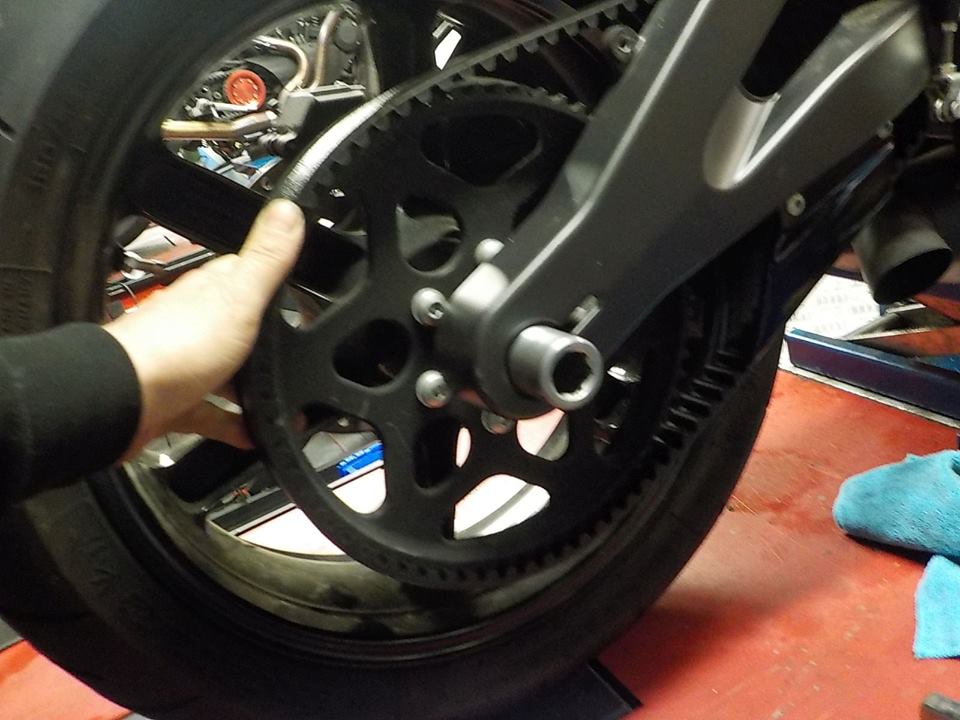 now first the swingarm brace in
than tighten the axle to 66 NM
pulley cover on
and the front piece to cover the wires
and rear fender back on —
she is ready for the season
the XB9r has done it's km on the dyno to run in the new bores and fresh OS pistons, now the run in oil can be replaced for normal oil
airbox cover on
while on the dyno i could here the belt squel over the idler pulley.. i put some more tension on the belt tensioner
the sample port screws can go in ( we are using this with a vacuum extracter )
and draining the break in oil
check the plug or debris. as we try to clean as good as we can, the swing arm is very hard to clean inside, the oil gets filterered before it enters the engine, but still better to have it clean off debris
chin spoiler on
a little cleaning up
she is running very nice
setting the oil level
last things.. new decal triple t
little cleanin un the top plate , and firebolt plate on
stil need to mount the USB feed .. mnn this looks ok
marking up
dril and tap
and screw on the mount
pulling through the wires to mount eh socket
will hook up the power for the usb charger to the light feed.. and i'm comming a cross my 2e favorite electrical connection ... shees.
some wire restoration.. and new light bulb was needed
looping the usb port wire , so it can be removed easy
and she is ready. for here new life.. she is a looker.. the black wheels makes here purdy
x1 restauration intake manifold off
fuel pressure hose.. looking like this better to replace
and when you see rust in the fuel filter.. eeehhh —
i will check and clean the injector ss
some swearing further as the small allen head on the screw look nice, but is not there to help when the screw is nearly seazed , injectors out
testing and cleaning.. these are ok
cleaning the throttle body.. common problem on the tps wire.. isolation is pulling back .. this on the ground wire..would not be to much issue
getting new bolts for the intake flanges
and a new screw for the fuel rail.. M5 size for people who would like to know
injectors cleaned..
and mounted with a coat off rubber grease on the o-rings
and new screw tight
new fuel hose on.. easier now
throttle cable secureing plate back on the throttle cables
and mounting the intake manifold
line the manofold up, with the mounting bracket , than tighten the intake flanges