Articles & photos
Rear shock ready for Buell S1,S2,S3,M2,X1
23-3-2021 - The Buell Rear shock is Ready. We started with the Buell S1, S2, S3, M2, X1.
Finally our rear shock for the Tube Frame Buell's is ready and for sale. Look here
In this topic you can follow the progress of the development of our Tube Buell S1,S2,S3,M2,X1 rear shock . We will make them for all Buell Models from 1984 till 2010 Tube Buells, all Buell XB models 9 and 12 models and the Buell 1125R and 1125CR.
Below you can see our prototype of the Tube Buell rear shock as it started:
Afther that we made a prototype:
After that we mounted it on a 1995 Limeted Edition Buell S2.
Then we took here for a long spin 80 miles for the first expression. Wow, very very good response. I use a 85-95 kilo spring, and because this is our test shock, we didn't mounted the remote reservoir. Save time. I went for a 80 mile test ride this morning, and did high speed corners, low speed corners, 8 mile very very bumpy road, still feel kidneys, low speed and high speed round abound, very high speed highway, a lot of adjustments and can only say what a brilliant product. I use as a reference a older AST aftermarket shock, with a remote reservoir and this simple shock without the remote reservoir is giving me much more feedback (or better said feels perfect). I set the spring adjustment to the original shock height and played with the adjustment but all i can say, let's go in production.
Because the feedback of the shock is so good we will make a version with and without remote reservoir. For the average rider that is more than enough adjustment for even a few times track use in a year and pleasure riding. We will then also make a version with a remote reservoir for the compression, But as far as i can feel it will be perfect for 80-90% of the customers who rodes a Buell S1, S2, S3, S3T, M2 X1 when we make them with a tailor made spring.
I rode her hard when she was warm, I can only say I really love our rear shock. Have a look at the tire, Do i need to say more.
Update 13-3-2012
And this morning it was cold, i put another 60 hard twisty test miles on the shock and played with adjustments, I keep loving it more and more.
We have 2 versions soon available:
- Buell M2,X1,S1,S2,S3 rear shock 42cm, 15,74 inch
- Buell M2,X1,S1,S2,S3 rear shock 38cm, 14,9 inch
Update 10-1-2013:
Here are some pictures of our final version. The colors will stay like this.
There will be a remote reservoir version that is 50 clicks adjustable
Finally Assembling waiting for some more parts
Update 7-2-2013
Our first batch long an short model shock absorbers for the Buell S1, S2, S3,M2, X1 almost ready and be here Friday finally, making more Buell riders happy.
Today our first production run came in.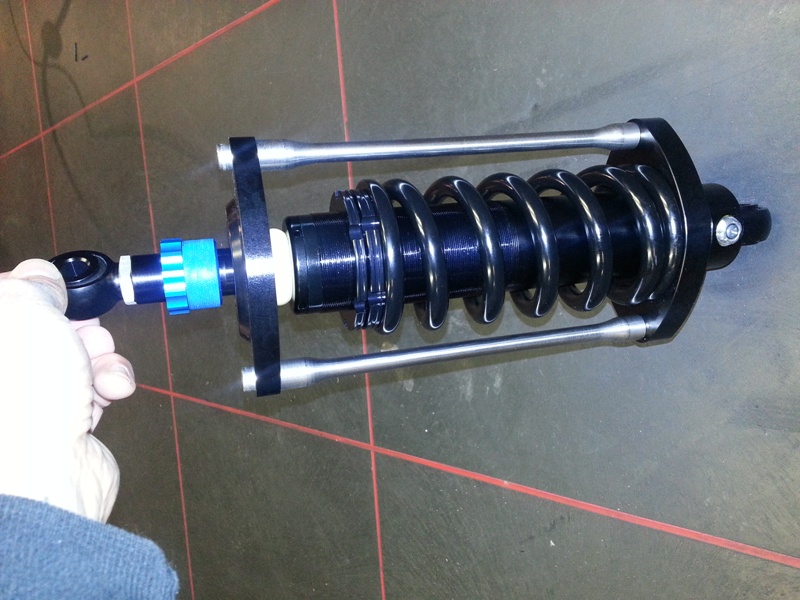 We took some new pictures
Warranty and Return:
This Twin Motorcycles products are guarenteed against any manufacturing defects
for a period of five (5) year from the purchase date.
This warranty does not cover damages resulting from any of the following situations:
1- Incorrect fitment or use
2- Abuse of the products
3- Racing accidents
4- disassembly or modifications
5- Unautorized oil changes
6- Damage occuring during transportation
Twin Motorcycles offers a five (5) year warranty on all shocks that are serviced by an approved
centre. It is recommended that all Twin Motorcycles shocks comply with the service schedule outlined on the
unique service schedule card inlcuded with the original documentation.
Note!
Any given warranty will be void if the shock is serviced outside of an authorised service centre.
A list of authorisd service centre's can be found at
www.tfxsuspension.com
Return Procedures
Important:
Always keep your invoice as proof of purchase and send a copy with all service or warranty returns.
Always mention that your shocks are sent for warranty repair on all shipping papers.
1- Fill in our warranty order form You can ask them by sending mail to info@twinmotorcycles.nl
2- Carefully package your shock(s) to avoid damage during transportation.
Include a copy of your original invoice
A brief description of the problem
A return address for shipping and/or invoicing
3- Ship your shock
This is how it looks when mounted
You can find them here: