Articles & photos
Tuning a 2009 Sportster 883 with our Torque Hammer
14-1-2021 - Tuning a 2009 Sportster 883 with our Torque Hammer
In this article, I will discribe the tuning of a Bone stock 2009 Harley Davidson Sportster Iron 883, that a customer delivered last weekend. We gained 35% HP and Torque with our stage 1 KIT.
Here are the factory specs:
- 53.89 CI = 883CC
- 3.00 inch bore x 3.812 inch stroke
- 55 ft lbs @ 3500 NM = 74 NM at 3500 RPM
We will first start making a bone stock run. Then see, if we change an air filter in the stock airbox, what that will do. Then mount our Torque Hammer and tune
the bike, test some different airbox systems and show you how we can help you getting the best for your bike.
Okay, the first dyno run is made.
- 95 octane, stock exhaust, stock airbox with stock filter
The Bike made 44.3 HP at 5683 RPM and 64 NM at 3454 RPM.
And here is the graph 44.3 HP at 5683 RPM and 64 NM at 3454 RPM.:
We took the bike from the dyno, fitted some new NGK9 Spark plugs and we will fit our Torque Hammer exhaust.
The first run will be with a stock airbox and our TH exhaust with fuell corrected for the exhaust.
When I make my fuel mappings, I always keep the stock O2 sensors and add 2 wideband sensors directly in the headers for accurate measurement. I then correct the computer the way I want the bike to run.
Here is the dyno sheet to compare what happens. This setup is with a stock airbox, stock airfilter and our Torque Hammer with the corrected Fuel for the exhaust BLU GRAPH (red graph is stock bike). It made 53.6 HP at 6283rpm and 74 NM at 3166rpm. So we only gained 8.2 HP and 8 NM of Torque with the exhaust only and no airbox touched.
We then kept the stock airbox and only replaced the K&N filter:
Below is the graph where you can see the difference between a tuned bike with a stock filter and a K&N filter for the stock airbox.
I think for the performance it is a waist of money, below you can see the figures and the results with a tuned WOT for both filters at 13AF. We gained 1.3 HP with the K&N Filter with tune.
- Torque Hammer with stock filter 53.6 HP and 74 NM of Torque
- Torque Hammer with K&N filter 54.9 HP and 74 NM of Torque
We think the K&N replacement filter for the stock airbox is a good replacement filter, money wise, but NOT performance wise.
So we only made 54.9 HP and 74 NM of Torque with the TH on a stock airbox with K&N filter look down
Okay, now we take off the Stock filter and try the big sucker air filter, we will start with the small size. We have more hope in the Big Sucker KIT, because
of the good results on the 1200 Sportster. Below is a picture:
And here is the result. 60.4 HP at 5683 RPM and 76 NM of Torque at 3065 RPM.
Red line is big sucker Blue line is stock.
We gained 16.1 HP and 12 NM with this Kit compared to stock.
Below you see a sheet with the difference in the stock airbox with K&N filter fitted, and with the big sucker. Blue Line is Torque hammer with closed stock airbox with K&N filter and the red line is with the Big Sucker and the Torque Hammer. The difference with the 2 airfilters setup is 5.5 Hp and 2 NM of Torque.
The difference with the 2 airfilters setup is 5.5 Hp and 2 NM of Torque.
Tomorrow I will test the Big sucker stage 2 airfilter kit and show the difference.
Update 8-6-2011:
I mounted the big sucker stage 2 topday, somehow i lost 1-2 HP and NM of Torque.. So the little big sucker stage 1 untill now works the best. I keep it on the bike and start tuning it completly, this will take some days.. I hope i can find the time, to try a bigger manifold, to see and understand how big of a restriction the current manifold size is. Next week this kit will be available for sale. Let's wait what the current customer says when he rides the bike. I hope he will write a little note for us to explain how bigh the difference is. After retuning the bike, i can see that there is no difference on the 883, if you mount the stage 1 or the stage 2 big sucker, boit make exactly the same power.
Update 4-7-2011:
Customer revieuw and update. Here is a little story from the customer who did this weekend his first ride.
this is the best looking 2-1 pipe i've seen for my sporty, i just cant stop looking at it!!
it sounds pretty mean and fast, and you know what, its is!
the bike feels fast and pulls strong in every gear at any rpm with very quick trhottle response.i love the extra space in revs i have now, so i dont hit the revlimiter every split second when i do a race up.
the engine feels and souds much smoother to, which makes me feel more confident at highwayspeeds
the funfactor is raised times 10 with this mod, i'm riding with a big grin on my face again!
i can hardly belief that this is my bike, its transformed into a little racer...
overall the difference between stock en this stage one is way to big to describe in words!
i am verry happy with this mod.
thanks,
bjorn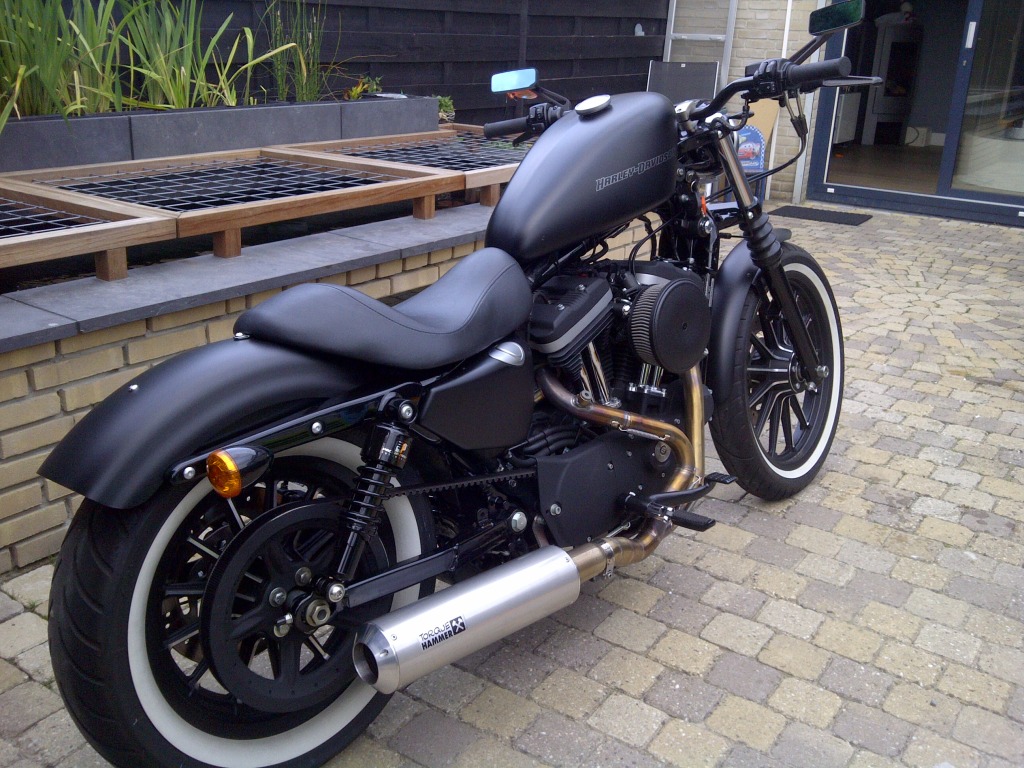 At this moment this is the only complete Kit for your Sportster 883 that you can buy in the market with the best performance for you Sportster 883.
It is developed with Mastertune software and makes the bike run very reliable and strong. We cannot find any package in the world that give you from day 1 that you start the bike no more problems. No more jerky feelings, Very good performance, the Best HP and Torque in the market. We truly think we developed the best Performance and Tuning stage 1 Kit for your Sportster 883, that makes you happy from day 1. We have lifetime support on our Fuel products with free ECM updates.
Update 1-2-2012:
Install sheet is ready
and some nice pictures of the complete exhaust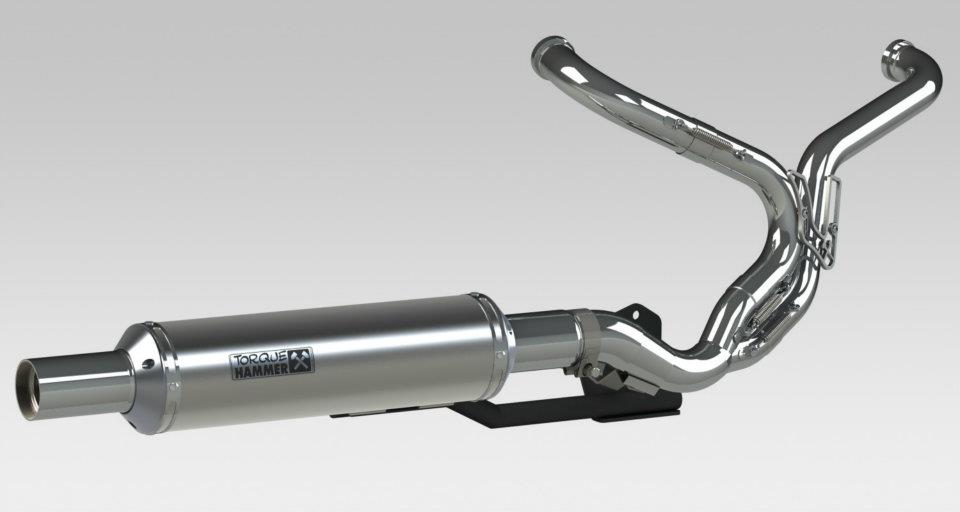 update 4-9-2012:
And another nice story from a independent tuner in the United Kingdowm, Powerglides.
Here is a independent test from a Harley Davidson tuner in the United Kingdom who tuned a 883 Sportser.
Here is his story:
Ok, this is a bit different, but I was so impressed with the Torque Hammer on the four XR1200s I've now done, that I wanted to try the Sportster version. Something that I've never considered before (other than my involvement in the 883 race series way back around 1990), is trying to see how much power I could get out of an 883. I always used to bore these out to 1200, but since H-D changed the construction of the cylinders in early 2008, which prevents us from doing this, this is no longer the "bang for the buck" that it used to be.

The use of EFI and slightly higher compression OEM pistons on the late 883s has pepped these engines up a little anyway.
So a H-D dealer that I do machine shop and tuning work for, lent me a 2012 883R and supplied the SE Heavy Breather air cleaner. Dris supplied the pipe and I donated the Direct Link key and the workshop and dyno time.
Very impressive results, this engine just keeps revving.

17% peak Tq gain and a 30% peak hp gain.
Really love the look of this pipe as well. Reminds me of a Burgess silencer on my old BSAs and Nortons.
The Blue and black lines are with and without db-killer, it's a loud pipe without.
Red = stock
Blue = quiet baffle out
Black = quiet baffle in